ComfortZone - Review
Written by: Tom Blaich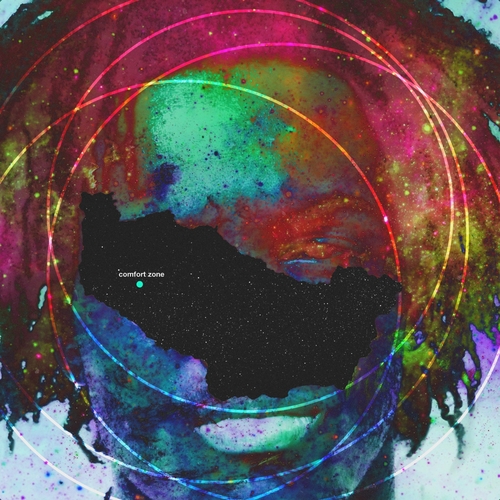 In 2014, Tahj Chandler, better known by his stage name of Saba, released his sophomore effort entitled ComfortZone. He first came to my attention through a feature on Acid Rap, which released the same year, on the song "Everybody's Something". He stood alongside Chance and BJ the Chicago Kid with a production by DJ Ozone. I'm an unapologetic fan of Chance, and when I saw that this guy had made a mixtape I figured that I would give it a listen.

The fourteen-track album is rather basic. It doesn't attempt to do anything radical or to break the mold. It chooses instead to exist within the mold that has already been created. It doesn't break free in any way and I really wish it did. There are some great stand out songs, but nothing that would really bear listening to purely as a single. Nothing here begs to be pulled out and listened to on its own. The album functions as an album, and not much more.

It feels very chill and relaxed, with not a lot of stress or tension running through it. This laid back flow carries throughout the entire album. The highs aren't too high, and the lows aren't super low. This album is the musical equivalent of the stoner kid who sits in the corner of the lunch room. Fun to be around, but doesn't make a lot of sense all the time. It's understated at best and confusing at the worst.

This is mostly due to Saba's "mumble rap" where all of his words and rhymes start to bleed together and combine into a confusing amalgamation of sound and music as you try to pick through it to find out what he's actually saying. This works for an artist like Young Thug because it doesn't matter as much what he's saying. What matters is that his music is fun to listen to. Here, the music is ostensibly carried by what the artist is actually saying, so this confusing speech does nothing to help and in fact hurts the album.

Many times this mumble builds throughout the song as the impact of the song is supposed to build, leading to a rushed climax that leaves me wondering what the hell just happened. But in some ways this sound grows on you. The first listen isn't bad, but it only improves every time you revisit it and stop worrying about trying to decipher it. This is because the actual substance of the album doesn't hold up under scrutiny, especially the scrutiny of multiple listens. Each song has its own message: "401K" talks about throwing away your future for a life of violence and how attractive that can be to younger people, and "Scum" looks at the perception of urban youth no matter what choice they make.



This common theme runs throughout the album. This sense of oppression that young people must deal with, but the album seems like a collection of short stories as opposed to a novel. The ties between the songs themselves are weak and it makes you wish for something more. For something greater.

What it leaves us with is a fantastic easy listening album. Something you can pull a song or two out of and just relax and enjoy. It feels like Surf, a Social Experiment album that I really like a lot. But the difference here is that Surf set out to be an easy listening album, hiding its features and having a laid back and relaxed feel that evokes feelings of the beach. Whereas ComfortZone stands of the precipice of something that it just simply fails to reach. It tries to tell a story like Good Kid, M.A.A.D City, but while trying to be a comforting album like Surf, and by doing so it kind of fails on both accounts. It tries to say to much to be truly relaxing, but it doesn't say enough to be paid attention to.

It's not a bad album. It just doesn't hit the mark that it aims at.

Tracklist:
1. TimeZone
2. Burnout (Feat. Eryn Allen Kane)
3. Butter (Feat. Jamila for M&O)
4. Welcome Home
5. 401K
6. For Y'all (Feat. Eryn Allen Kane and MC Tree)
7. Scum
8. Westside Bound (Feat. Benjamin Earl Turner)
9. Whip (Areyoudown?)
10. Westside Bound Pt. 2
11. Marbles 3:47
12. Comfort Food (Feat. LEGIT)
13. Tell You
14. United Center (Feat. Chandlar and Ken Ross)

This title was reviewed before the inception of our current review system and as such is not scored. We still stand by the content of our old reviews.

Our review code can be found here for information on how we write and score our reviews. If you have any questions, comments, suggestions, or concerns, please contact us at contact@deathofthecritic.com

_____________________________________________


Tom has been writing about media since he was a senior in high school. He likes long walks on the beach, dark liquor, and when characters reload guns in action movies.




You Might Also Like:
The Bucket List Project - Review

Acid Rap - Review

The Incredible True Story - Review

_____________________________________________