Starboy - Review
Written by: Tom Blaich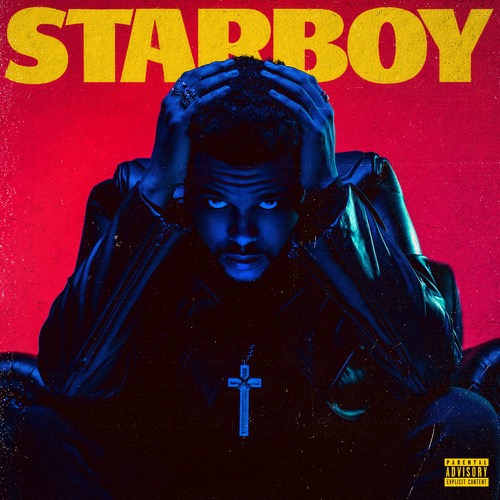 It is hard to capture lightning in a bottle. Even harder is to do it more than once. With Starboy, Abel Makkonen Tesfaye, aka The Weeknd, tried to follow up the smash success of last year's Beauty Behind the Madness, but amidst his ruminations on fame, sex, and drugs, he forgot what made the last project so great. Starboy is, at it's heart, stagnant; a too long collection of well-produced, pop/electrosoul tracks that fail to go anywhere new in their quest to make more chart topping hits. You can clearly see the Daft Punk influence, and the appearance by both Kendrick Lamar and Lana Del Rey stand out as highlights. The songs sound good, but they have lost some of that raw, emotional quality that felt so great, and instead take on a more manufactured feel that brings the album down.

It's strange to get famous for a song about doing so much cocaine that your face goes numb. The track "Can't Feel My Face" and its smash success had to be a weird experience for Tesfaye. "I just won an award for a kids show / Talking 'bout a face numbing off a bag a blow / I'm like, goddamn, bitch, I am not a teen choice." It is weird when seemingly no one gets it, when kids listen to songs about drug trips as they sit next to their parents and nobody's the wiser. That might be why some of the complexity of the music is lost, replaced with 18 songs bemoaning vapid women who only want drugs and easy sex, alongside his own love of both drugs and easy sex.

After a while the beat starts to blend together until the entire album seems to morph into a long blur of music, like the neon lights of a club you don't particularly want to be in. Only a few tracks stand out amidst the ruckus, with "False Alarm" giving us an upbeat pop synth pumping behind Tesfaye's strangely shouted chorus. "She's a false alarm. False alarm." It goes 0 to 100 real quick, and as we hear an alarm sound in the background, I can't help but recall the Nicki Minaj earworm, "Sound the Alarm." "Sidewalks" is excellent, in spite of the too heavy autotune behind Tesfaye, with Kendrick Lamar rapping an almost ridiculous verse that manages to be catchy as hell, stealing the show completely. The closing track, "I Feel it Coming" is great, and sounds so much like a Daft Punk track, which is refreshingly different from the generic radio pop sound that the album has. It is instantly familiar and is a perfect way to close the album.

In a year full of creativity and artist experimentation, Starboy just doesn't live up to what it could be. There is too much fluff here, and the latter half of the album can drag as you wait for the finish. That being said, aside from a heavy reliance on auto-tune, the album is impeccably produced and just sounds great. Chasing the radio hits diluted The Weeknd. He might have accomplished his goal of making more chart friendly pop hits, but it simply doesn't suit him.



2.5/5



Tracklist:
1. Starboy (Feat. Daft Punk)
2. Party Monster
3. False Alarm
4. Reminder
5. Rockin'
6. Secrets
7. True Colors
8. Stargirl Interlude (Feat. Lana Del Rey)
9. Sidewalks (Feat. Kendrick Lamar)
10. Six Feet Under (Feat. Future)
11. Love to Lay
12. A Lonely Night
13. Attention
14. Ordinary Life
15. Nothing Without You
16. All I Know (Feat. Future)
17. Die For You
18. I Feel It Coming (Feat. Daft Punk)


Our review code can be found here for information on how we write and score our reviews. If you have any questions, comments, suggestions, or concerns, please contact us at contact@deathofthecritic.com

_____________________________________________


Tom has been writing about media since he was a senior in high school. He likes long walks on the beach, dark liquor, and when characters reload guns in action movies.




You Might Also Like:
Lady Wood - Review

Sit Still, Look Pretty - Review

Two Vines - Review

_____________________________________________