Dim Mak Greatest Hits 2016: Remixes - Review
Written by: Tom Blaich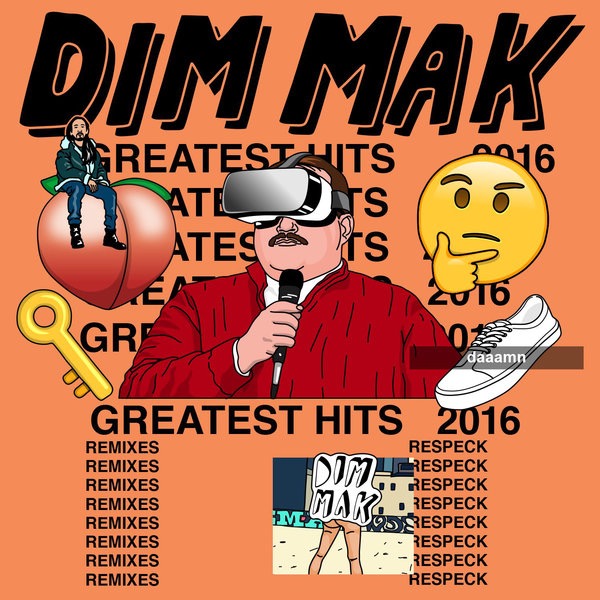 I spent a long ten hours in a car this weekend, and due in part to my own self-loathing, I decided that I would use that time to listen to some of the worst albums that I have in a long time. First up was Dim Mak Greatest Hits 2016: Remixes which probably should have alerted me with its album art. Much like a brightly-colored poisonous animal, the album cover here is a garish collected of outdated memes slapped over a rip-off of the already terrible The Life of Pablo cover. It is, honestly speaking, the worst piece of product related art that I've ever seen, and it feels like a bad photoshop that someone put together to be as shitty as possible, but some memo got lost along the way and it was actually used.

I'll say right off the bad that this album is terrible and I normally wouldn't even consider reviewing something like this, but I wanted to take the opportunity to talk about electronic music and why so many people hate it. After listening to this album, I don't know if I can necessarily blame them. The album is an hour long series of creatively bankrupt and pointless remixes of songs that sound like they were put together by a high schooler and his library of generic EDM beats.

It starts off with a remix of My Chemical Romance's "Welcome to the Black Parade." I have no particular attachment to the original song, except for some old junior high memories. It could be an interesting idea, but the execution is awful. It is just stripped out lyrics laid over a boring and plain beat. There is no depth, no originality, just shitty synths and uninspired and flat drops. It is the only time in my life that I've ever looked in the mirror and thought that I would rather be listening to My Chemical Romance.

This is the kind of music that people are talking about when they decry EDM. And I honestly can't blame them. The songs have no flow between them, no tie at all, and even though they are all remixes of different songs, they all sound the same. What I enjoy about the genre is the experimentation and exploration of the music, the sense that I never quite know what is coming next. I didn't get that here. I always knew what was coming, and was always disappointed when it happened. It's technically an album and that is the best thing that I can say about it. It's poorly made, uninspired, and awful in every way.



0.5/5



Tracklist:
1. Welcome to the Black Parade [Steve Aoki 10th Anniversary Remix]
2. I Know U [KRNE Remix]
3. Bring Back the Summer (Feat. OLY) [Boehm Remix]
4. Drop It Down Low (Feat. Richie Loop) [Steve Aoki Edit]
5. Streets [EXSSV Remix]
6. Runaway (Feat. 3LAU) [T-Mass Remix]
7. Bomb a Drop [MORTEN Remix]
8. Making Luv to the Beat (Feat. T.I. and DJ E-Feezy) [MERCE Remix]
9. Losing My Mind [Botnek's Buffering Mix]
10. Get Loose [Garmiani Remix]
11. NY 2 LA [VIP Mix]
12. Dynasty (Mumbai) [Feat. Karra] [Tom Budin Remix]
13. Entertain Us [Chris Bushnell Remix]
14. No Problems (Feat. Jahlil Beats) [QUIX Remix]
15. All 2 U (Feat. Kiff) [Taiki Nulight Remix]
16. Swallow My Pride (Feat. Molly Moore) [Viceroy Remix]
17. Warning (Feat. Virtus) [Tropkillaz Remix]
18. OWM [Soslo Remix]

Our review code can be found here for information on how we write and score our reviews. If you have any questions, comments, suggestions, or concerns, please contact us at contact@deathofthecritic.com
_____________________________________________


Tom has been writing about media since he was a senior in high school. He likes long walks on the beach, dark liquor, and when characters reload guns in action movies.




You Might Also Like:
Run the Jewels 3 - Review

3001: A Laced Odyssey - Review

As Seen on the Internet - Review

_____________________________________________