Run the Jewels 3 - Review
Written by: Tom Blaich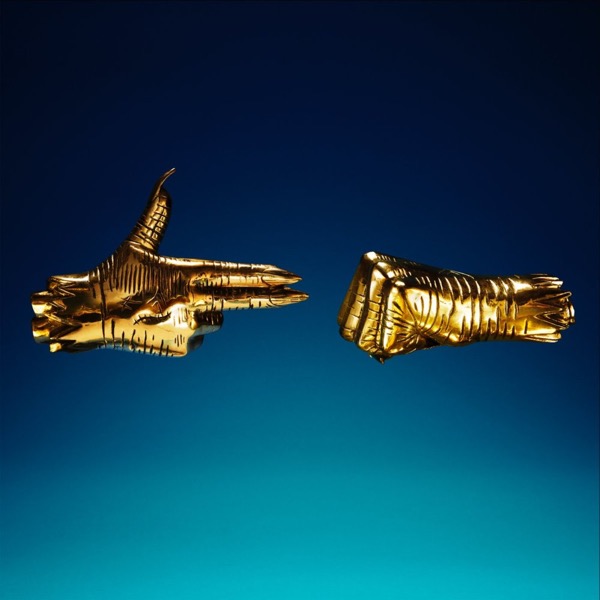 It took me a long time to finally get into this album. On my first five or ten listens, I simply didn't like it. It didn't hit me in the same way as I wanted it to. It almost felt flat. This stands in stark contrast to Run the Jewels 2, which hit me like a hip-hop locomotive from the very first line, "I'm gonna bang this bitch the fuck out." It grabbed a hold of me and demanded my attention, holding my face to the road, and loving it. It was one of my favorite albums of 2014 and barring, "Love Again", I loved every second.

I don't get that same sort of frenetic, angry energy here that made me love 2 so much. It starts off on an almost sleepy, faded note with "Down", which bears the emblematic production of El-P, but felt flat. It was a Run the Jewels song in the most technical way, and it soured the first half of the album. The first few tracks do their best to mimic the sound of the previous projects, with a few decent bangers. "Stay Gold" being as catchy as it is dumb and "Hey Kids" featuring an excellent Danny Brown feature that is the highlight of the opening half of the track list.

But it takes a while for the album to find its place, its dark and expressly political sound that Run the Jewels revels in and does so well. In the latter half of the album, I finally found what I was looking for as the sound got darker and grittier. El-P's production lends itself well to the more grimy sound, becoming almost industrial in the background as the two drop some really hard hitting bars. Killer Mike has some nasty lines, but he just doesn't click with me the way that El-P does. He never has.

I wish this album started half way in. While there are a few solid tracks in the beginning, they are too clean, and they fly in the face of the darker message of the second half. The album gets bogged down in its first twenty minutes as it looks for the fire that we are used to hearing from them. As it is now, the album is simply too long, and desperately needs a sense of focus.

That being said, when it does finally hit, it hits damn hard. The final track blaring "Kill your master" is some hardcore, revolutionary stuff that you can't really find anywhere else. The production, aside from "Down", is top notch, and the few features that sneak in are fantastic. It doesn't manage to top 2, but it is slowly working its way into my rotation.



3/5



Tracklist:
1. Down (Feat. Joi Gilliam) 2. Talk to Me 3. Legend Has It 4. Call Ticketron 5. Hey Kids (Bumaye) (Feat. Danny Brown) 6. Stay Gold 7. Don't Get Captured 8. Thieves! (Screamed the Ghost) (Feat. Tunde Adebimpe) 9. 2100 (feat. BOOTS) 10. Panther Like a Panther (Miracle Mix) (Feat. Trina) 11. Everybody Stay Calm 12. Oh Mama 13. Thursday in the Danger Room (Feat. Kamasi Washington) 14. Report to the Shareholders/Kill Your Masters

Our review code can be found here for information on how we write and score our reviews. If you have any questions, comments, suggestions, or concerns, please contact us at contact@deathofthecritic.com
_____________________________________________


Tom has been writing about media since he was a senior in high school. He likes long walks on the beach, dark liquor, and when characters reload guns in action movies.




You Might Also Like:
To Pimp A Butterfly - Review

3001: A Laced Odyssey - Review

blond - review

_____________________________________________