Hibachi for Lunch - Review
Written by: Tom Blaich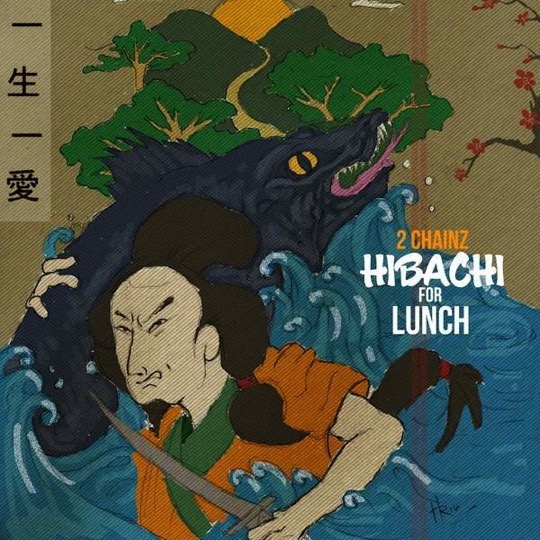 The artist formerly known as Titi Boo works pretty damn hard. Hibachi for Lunch comes off of a long year of releases and features, from this spring's Collegrove in March, to Felt Like Cappin' and Daniel Son, Necklace Don in January and August, with dozens of features sprinkled in between. It is not a stretch to call himont of the hardest working artists in rap. Hibachi for Lunch is the latest in his long line of mixtapes, and brings a rough but laid back set of tracks to your ears that is gone almost as soon as it starts. Clocking in at only 22 minutes long, this bite-sized EP is shorter than an episode of The Simpson and a hell of a lot more fun. It uses every minute wisely, with no space for filler, and just focusing on the music.

By taking short to the extreme, 2Chainz has created an album that attempts for maximum impact and replay ability in as short of a period of time as possible. It is easy to listen to over and over again, playing it on repeat in the background of whatever you are doing. The production is excellent as always, with tight, distinct beats in each track. From the slowed down piano of "Good Drank" to the synth and snares of "Day Party" that fade into the background, to the hard hitting electronic sounds of "Diamonds Talking Back". As normal his lyrics take backseat to the sounds, being characteristically ridiculous, but they're catchy if nothing else.

For a seven song affair, it is one of my favorite 2Chainz releases in a while. Short, simple, and to the point, it pushed all the right buttons for me as a listener, and it doesn't get complacent or show any sign of slowing down. There is no theme, no common thread strung between songs, the closest being that of an afternoon for 2Chainz, wherever that may take him. He says some ridiculous shit over dope beats, and sometimes that is exactly what you need. Style over substance, it reminds me of Slime Season 3 and that's always a good comparison for me. It might not stick around for a while, but I'll be enjoying it until it's gone.


3.5/5


Tracklist:

1. Countin

2. Diamonds Talkin Back

3. Good Drank (Feat. Quavo & Gucci Mane)

4. Lil Baby (Feat. Ty Dolla $ign)

5. Day Party

6. Doors Open (Feat. Future)

7. Here We Go Again
Our review code can be found
here
for information on how we write and score our reviews. If you have any questions, comments, suggestions, or concerns, please contact us at
contact@deathofthecritic.com

_____________________________________________


Tom has been writing about media since he was a senior in high school. He likes long walks on the beach, dark liquor, and when characters reload guns in action movies.




You Might Also Like:
Jeffrey - Review

Slime Season 3 - Review

SremmLife 2 - Review

_____________________________________________