blond - Review
Written by: Tom Blaich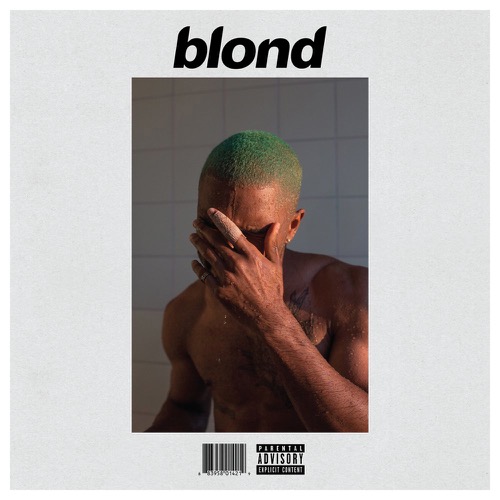 It's been years since Channel Orange, and fans everywhere have been eagerly awaiting the next project from Frank Ocean. Perhaps a little too fervently. But in the last few years, the world has changed. Music has changed. And I don't know if any of us quite expected what we got. Blonde is simultaneously somber and rich, a eulogy for the childhood of his past. Ocean is growing up, coming to accept himself for who he is. It is melancholic and drawn out, forming only one part of an experience toiled over for years. There's blond, a free magazine, and the visual album Endless that all come together as a part of his grand vision of who Frank Ocean is today.

We kick off with "Nikes", which sets the brooding tone for the next hour of music. "Rest in peace Trayvon, that nigga looked just like me." The world of today is a much darker place for Frank than it was four years ago. He struggles with his identity, with his sexuality. Who is Frank Ocean, and what is his place in our new and chaotic world? We are in a bad place, but according to him, it can get better if we try.

As the tracks go on, much of the album begins to slowly blend together. The muted sounds begin to conglomerate all of the tracks together, which is really unfortunate. I understand the style that he is going for, the bleak sound, but I just wish there was more variety to draw your attention. The album sounds fantastic, inside of its small space. It doesn't come out of this space, which I think is a let down. Variety is something that I love in music, in all media. The lack of it does not mean that the album is bad, but its absence can be felt as songs blend together.

What this does do is keep bringing me back to the album. Something about it intrigues me. Keeps me listening to it to try to dig deeper. The lack of song differentiation lulls you into a state of peaceful security, even as he talks about the bad things in the world. It hides a sense of pain behind the lyrics that just begs to be unearthed and unpacked. It is a wonderful performance by Ocean, and it really shows his growth as an artist.

Even as I write this, there is a lot left to be discovered here. I need to keep digging into it. Something about it compiles me. Soothing yet tumultuous, blond does its best to live up to the lofty expectations of fans. Not without its faults, just like the artist that created it. One of the best R&B albums of the year.


Editor's Choice


Tracklist
1. Nikes
2. Ivy
3. Pink + White (Feat. Beyoncé)
4. Be Yourself
5. Solo
6. Skyline To (Feat. Kendrick Lamar)
7. Self Control (Feat. Austin Feinstein and Yung Lean)
8. Good Guy
9. Nights
10. Solo (Reprise) (Feat. Andre 3000)
11. Pretty Sweet
12. Facebook Story (Feat. SebastiAn)
13. Close To You
14. White Ferrari (Feat. James Blake and Bon Iver)
15. Seigfried
16. Godspeed (Feat. Kim Burrell)
17. Futura Free

This title was reviewed before the inception of our current review system and as such is not scored. We still stand by the content of our old reviews.

Our review code can be found here for information on how we write and score our reviews. If you have any questions, comments, suggestions, or concerns, please contact us at contact@deathofthecritic.com
_____________________________________________


Tom has been writing about media since he was a senior in high school. He likes long walks on the beach, dark liquor, and when characters reload guns in action movies.




You Might Also Like:
The Healing Component - Review

ComfortZone - Review

We got it from Here... Thank You 4 Your service - Review

_____________________________________________