Written by: Tom Blaich


Logic's second studio album shouldn't sound unfamiliar to fans, or really to anyone who has listened to him before. If anything, he has become more comfortable with his sound, like Drake trying to rap Kendrick Lamar. He still has the technical chops that we've seen before, but in this album he is allowed to expand upon them a little more, showing off his speed and production several times throughout the album, which is made more impressive by the fact that he always remains intelligible. His annunciation is great, which is a problem with many speed rappers.
Read More…
Written by: Tom Blaich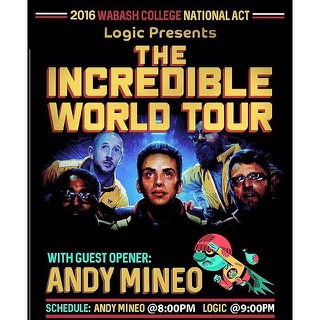 Saturday evening, Wabash College was visited by a pair of artists, Andy Mineo and Logic, two names probably not mentioned often in the same sentence. Mineo, a Christian rapper out of New York opened the evening, and Logic, who released his second studio album The Incredible True Story in November, closed the show. Labeling the evening as a part of Logic's "Incredible World Tour", they aimed to create a party atmosphere in the small gymnasium in the small, 900 student, all male campus in Crawfordsville, Indiana.
Read More…